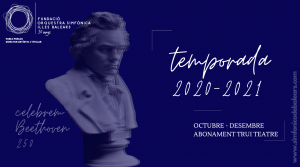 season ticket at trui teatre (oct-deC) (pdf)
calendar 20-21 October December
THE SYMPHONY ORCHESTRA OF THE BALEARIC ISLANDS (OSIB) IS CELEBRATING CONCERTS FOR THE 2020/21 SEASON AT TRUI TEATRE
THE OSIB WILL BE CELEBRATING THEIR CONCERTS FOR THE 2020/21 SEASON AT TRUI TEATRE, IN PALMA, A VENUE COMPLYING WITH THE TECHNICAL AND SEATING NEEDS OF THE ORCHESTRA. THERE WILL BE SEATING RESTRICTIONS, AND PERFORMANCES WILL BE CARRIED OUT FOLLOWING EVERY HEALTH AND SAFETY PROTOCOL: PHYSICAL DISTANCING WILL BE GUARANTEED, HYDROALCOHOLIC GEL WILL BE PROVIDED TO THE AUDIENCE AND THE USE OF MASK WILL BE MANDATORY.
A SINGLE-TYPE SEASON TICKET IS ISSUED FOR THE CONCERTS AT TRUI TEATRE, WHICH INCLUDES SEVEN CONCERTS (OCTOBER TO DECEMBER) AND COSTS 190 €. IT GOES ON SALE ON THE 22ND AND 23RD OF SEPTEMBER, ONLY FOR SEASON-TICKET HOLDERS 2019/20, THROUGH THE BOX OFFICE AT TRUI TEATRE (FROM 10 AM TO 1PM AND FROM 4 PM TO 8 PM); OR BY PHONE: 971783279. AFTER THAT, SEASON TICKETS AND SINGLE CONCERT TICKETS WILL GO ON GENERAL SALE AND WILL BE AVAILABLE THROUGH OUR WEBSITE: WWW.SIMFONICADEBALEARS.COM. FOR MORE INFORMATION, PLEASE CONTACT 971287565.
2020/21 SEASON-TICKET HOLDERS WILL ENJOY A 30% DISCOUNT ON IN-HOUSE PRODUCTIONS THAT THE OSIB WILL BE OFFERING AT TEATRE PRINCIPAL IN PALMA, ON THE 13TH OF NOVEMBER AND THE 3RD OF DECEMBER.
FIRST SERIES
THE FIRST SERIES OF THE SEASON (OCTOBER-DECEMBER) WILL COMMEMORATE LUDWIG VAN BEETHOVEN, CELEBRATING 250TH YEARS SINCE HIS BIRTH. THE OSIB WILL INTERPRET THE GERMAN'S FIRST EIGHT SYMPHONIES AND HIS FIVE CONCERTS FOR PIANO AND ORCHESTRA.
FOR THE FIRST PART OF THE SEASON'S PROGRAMME, THE OSIB WILL HOST HIGH-LEVEL PIANISTS: GERHARD OPPITZ INTERPRETS BEETHOVEN'S FIVE CONCERTS FOR PIANO AND ORCHESTRA, AND ACCLAIMED JOAQUÍN ACHÚCARRO PERFORMS MAURICE RAVEL'S CONCERT FOR PIANO IN G MAJOR. MOREOVER, WORLD-CLASS VIOLINIST FRANK PETER ZIMMERMANN RETURNS TO MALLORCA TO INTERPRET FELIX MENDELSSOHN'S VIOLIN CONCERTO, AT TRUI TEATRE.
ON THE 10TH OF DECEMBER, THE OSIB WILL INTERPRET HANDEL'S MESSIAH WITH SOPRANO NURIA RIAL, COUNTERTENOR LEANDRO MARZIOTTE, BARITONE JOSÉ ANTONIO LÓPEZ AND THE CHOIR OF THE UNIVERSITY OF THE BALEARIC ISLANDS (CUIB) AT TRUI TEATRE. THE SAME PERFORMANCE WILL BE OFFERED AT THE AUDITORIUM IN MANACOR ON THE FOLLOWING DAY.
THE OSIB PERFORMS UNDER THE BATON OF ITS TITLE CONDUCTOR, PABLO MIELGO, AND ALSO WITH TOP GUEST CONDUCTORS. LEOPOLD HAGER WILL CONDUCT BEETHOVEN'S SYMPHONIES No.7 AND No.8; LIONEL BRINGUIER WILL CONDUCT FRANCIS POULENC'S SINFONIETTA AND BEETHOVEN'S SYMPHONY No.3; ANDREA SANGUINETTI WILL CONDUCT THE MAGIC FLUTE AT TEATRE PRINCIPAL DE PALMA; JOSÉ MIGUEL PÉREZ SIERRA WILL LEAD THE OSIB TO INTERPRET LA BOHÈME AT TEATRE PRINCIPAL DE MAÓ, IN MENORCA; AND PABLO URBINA WILL BE CONDUCTING A PROGRAMME FOR YOUNG AUDIENCES.
TICKETS FOR THE OPERA SHOWS OFFERED IN PALMA AND MAÓ ARE AVAILABLE AS USUAL, THROUGH TEATRE PRINCIPAL AND ASSOCIACIÓ D'AMICS DE L'ÒPERA DE MAÓ, RESPECTIVELY.
TICKETS FOR PROGRAMME IX (DECEMBER 3RD, 7 PM) COST 10 € (ADULTS) AND 4 € (UNDER 12). THEY ARE ON SALE THROUGH THE OSIB WEBSITE, STARTING SEPTEMBER 30TH. THE REST OF THE PERFORMANCES IN THIS PROGRAMME ARE INTENDED FOR SCHOOL ATTENDANCE. IF YOU ARE INTERESTED IN JOINING IN, PLEASE SEND YOUR BOOKING TO INFORMACIO@SIMFONICADEBALEARS.COM. TICKETS COST 2 € PER STUDENT.
TICKETS FOR THE SHOWS OFFERED AT THE AUDITORI IN MANACOR ARE ON SALE AT THE AUDITORIUM BOX OFFICE AND THROUGH THEIR WEBSITE.