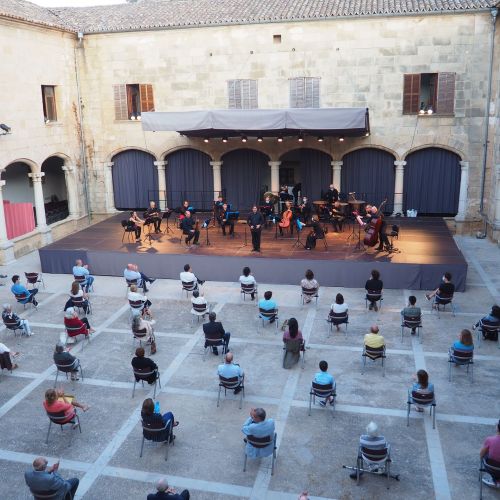 La SIMFÒNICA de lEs ILLES BALEARS La primera orquesta en españa en retomar la actividad
The OSIB has been the first orchestra in Spain to resume its activity, which begun with concerts in Mallorca: at Sant Miquel church (Campanet), Claustre de Santo Domingo (Pollença) and Plaça Alexandre Ballester (Sa Pobla), on Friday 29th, Saturday 30th and Sunday 31st of May, respectively.
Performances are carried out following the protocols that have been arranged for the OSIB's comeback after confinement. Therefore, concert areas are signaled, the organization provides attendants with hydroalcoholic gel and the use of face masks and gloves is compulsory.  Distribution of the audience will depend on the capacity permitted in each phase of de-confinement and the size of each concert location. General public will be not permitted access to the stage area, so as to avoid contacts and agglomerations.
The initiative #SonamPerTu has appeared on the cover of mainstream news media (both local and national), and in internationally renowned music magazines and blogs, including Slippedisc, Diapason and Scherzo, among others.
La Orquesta Sinfónica Islas Baleares retoma su actividad con un ciclo de 59 conciertos, que se celebrarán entre finales de mayo y septiembre de 2020 en todas las islas. Bajo el nombre de #SonemPerTu, la Sinfónica vuelve a los escenarios de Mallorca, Menorca, Eivissa y Formentera con conciertos de pequeño formato de grupos de cuerda, viento y percusión y un repertorio variado que va desde la música barroca a estilos contemporáneos con obras heterogéneas y para todos los públicos.
#Sonempertu es un proyecto poliédrico que muestra la realidad de una orquesta conectada entre si administrativamente como modelo de gestión y con actividades en el medio escénico (suena), educativo (educa) y social (para todos).
Estas actividades se enmarcan dentro de los objetivos propuestos que se hace realidad con la realización de estos acontecimientos como son: descentralizar el alcance de la Sinfónica, más allá de Palma, llegar a nuevos públicos y escenarios en un ejercicio de equilibrio interterritorial, acceso a la Sinfónica por todo tipo de colectivos, programaciones adaptadas a los diferentes sectores de público.
Desde el confinamiento, la Sinfónica no ha parado de estar conectada con su público telemáticamente (con videos individuales y grupales y conferencias con sus abonados). Ahora, que es posible hacer música vive (dentro de unas limitaciones) , se quiere retomar la actividad con conciertos de cámara.
La iniciativa surge en el complejo contexto actual provocado por la crisis del COVID-19 y responde a la trascendencia de la acción cultural en la reactivación de la sociedad. #Sonempertu cuenta con el máximo apoyo del Gobierno Balear.